I think that heirlooms are cool.
This was my grandmother's (Virginia Beam) ring. When she died we had to clean out her house and I remember my mother suggesting to take something if my sister or I wanted it. I was kind of creeped out by this.
Mom and my sister started looking through Grandma's jewelry box. I'm allergic to most metals and don't wear a lot of jewelry anyway so I wasn't all that interested in it. My sister was picking all sorts of stuff out and my mother was searching for Grandma's mother's ring when I thought of something.
Among the rings Grandma wore every day was a silver one with an amethyst framed by a couple of leaves. I always thought that it was cool because it had my birthstone in it.
I asked whether that one was in the box. It was and, fortunately, my sister didn't want it (of course, Mom would've given me dibs on it due to it being a metal I could wear anyway). It's the only thing that I wanted and that I took from the house.
I wear it sometimes and think of my Gramma-Rama.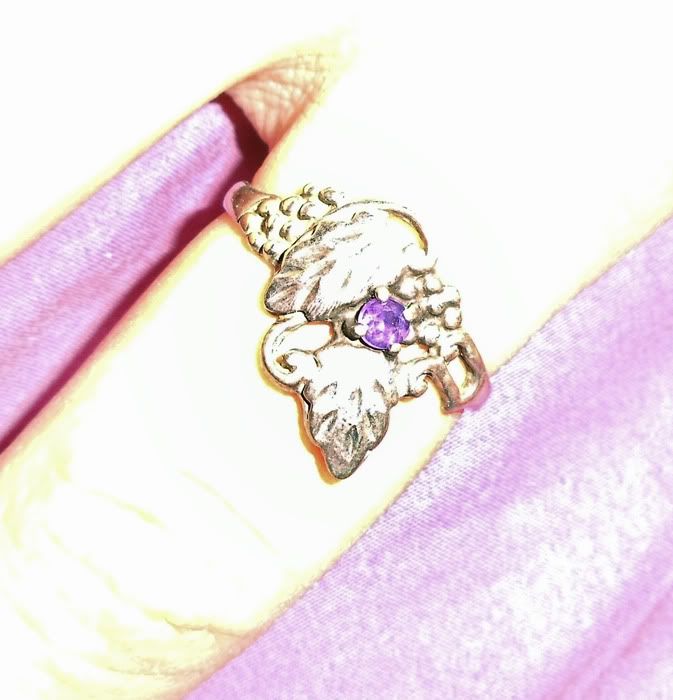 I also found something that I thought might be heirloom-worthy someday. Just after I was born my mother got a necklace with a ring on it. The ring was the size of my ring finger when I was a baby.
It is hard to take pictures of jewelry.
My mother found another article about my g-g grandfather Andrew Beam and my aunt Ann (Beam) Smith's senior pictures.
That's all for today. :)
Sarah
My stomach is kind of gross today and my writing is poor because of it. Kindly forgive me.