I kept a charm bracelet as a kid and decided to craft a new one. I've represented flag bits from all of my dominant ancestral countries save Swizerland due to the dilution of his genes. I may yet get one.
I like the FlagShape idea (like I have for US, Ireland, and Canada) but couldn't find anything for UK or Germany. The charms I have for those two are beautiful, though, so I may just keep them.
My genealogy work has dropped off due to health issues but I hope to pick it up again soon.
Sarah


Does this make Bohemian Rhapsody a cultural anthem for me?




Awesome.


Sarah
Maternal grandmother's name was Beam. Beam was anglicized in late 1700s from "Boheme" which means "one from Bohemia".
I think that heirlooms are cool.
This was my grandmother's (Virginia Beam) ring. When she died we had to clean out her house and I remember my mother suggesting to take something if my sister or I wanted it. I was kind of creeped out by this.
Mom and my sister started looking through Grandma's jewelry box. I'm allergic to most metals and don't wear a lot of jewelry anyway so I wasn't all that interested in it. My sister was picking all sorts of stuff out and my mother was searching for Grandma's mother's ring when I thought of something.
Among the rings Grandma wore every day was a silver one with an amethyst framed by a couple of leaves. I always thought that it was cool because it had my birthstone in it.
I asked whether that one was in the box. It was and, fortunately, my sister didn't want it (of course, Mom would've given me dibs on it due to it being a metal I could wear anyway). It's the only thing that I wanted and that I took from the house.
I wear it sometimes and think of my Gramma-Rama.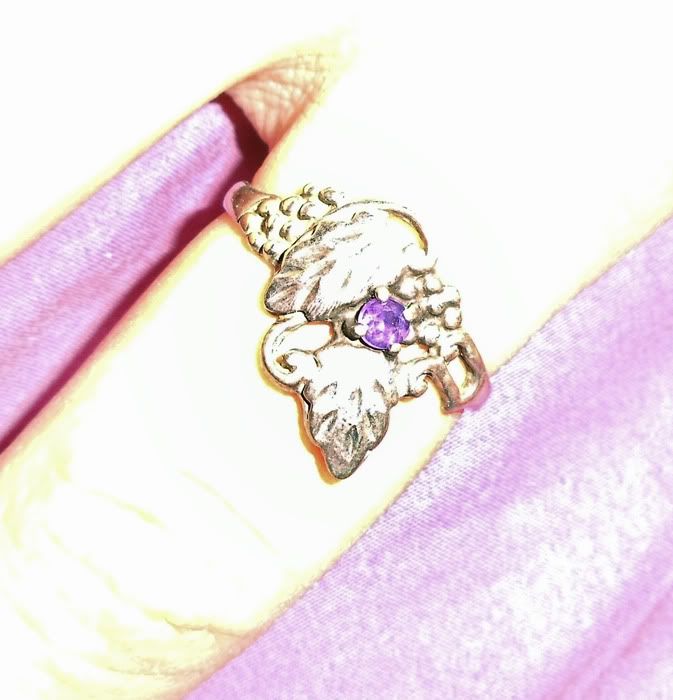 I also found something that I thought might be heirloom-worthy someday. Just after I was born my mother got a necklace with a ring on it. The ring was the size of my ring finger when I was a baby.
It is hard to take pictures of jewelry.
My mother found another article about my g-g grandfather Andrew Beam and my aunt Ann (Beam) Smith's senior pictures.
That's all for today. :)
Sarah
My stomach is kind of gross today and my writing is poor because of it. Kindly forgive me.
here
. I did not reread the linked chapter before writing this up.
Abraham Beam (b. 1720 in Lancaster County, PA, d. 1799 in Welland City, Ontario, Canada) was part of the first-born generation of Beams (Bohm, Boehme, Boehm) in the Colonies. He was raised as a Mennonite by his mother, Barbara, and his father, Jacob Boehme - one of the founders of the Mennonite church in North America.
During the American Revolution Abraham and his family did not fight due to their religious beliefs and actually harbored a bit of pity for the British troops. At some point a couple of Redcoats stumbled down their road and Abraham took them in for a few days while they ate, slept, and healed.
Someone found out about this. Abraham was arrested and put in jail for two or three years. After finally being released he was understandably sore and moved his family up to Canada to find the religious freedom that his father, Jacob Bohme, sought in the New World in the first place. While the rest of his siblings stayed in PA Abraham made several Canadian land purchases from King George III, some of which remain in the family to this day.
All of the Beam descendants I know have a definite rebellious streak. We express it in different ways but we are a people that stick to our moral codes and beliefs.
Sarah
A quick history of Abraham Beam, my g-g-g grandfather. The full story is


Genea-Blog encouraged its followers to post their 9/11 experiences. Below is a bit that I wrote back in March about the attack while I was wrestling with my definition of a patriot.

~*~



For some reason I've been looking up things pertaining to September 11. Now, I know that I get into my odd little fascinations and happily nerd out on them for a while - but I've never been been quite this driven to look up this particular subject.

Besides, why would I want to experience it twice?

I am a history buff - this much is obvious (or is it? I haven't been posting about my nerdery lately. I'll have to remedy that). This, however, just doesn't feel like history. I was there.

I was 19.

I remember hearing the second tower falling on the radio. I remember the empty butcher shop with no TV or radio and our (few) customers being our only connection with the outside world. I remember the man that came in to buy a pound of ground beef whose brother and sister-in-law had just gone to NYC to visit. His hands shook as I gave him his change. I remember the silence - oh, all of that horrible silence everywhere. I remember local news talking about how Chicago might be the next target and what we, an hour or so away, should do in order to prepare. I remember seeing lines of cars at the gas stations that stretched well down the street and empty shelves of water at the grocery store. I remember wanting to do something - anything - to make it all better and settling on going back to work and resuming life as usual as we had been told to do. I remember feeling the oneness with my country for the first time and the shock when other countries actually did come to our aid. I remember welling up a bit when Canada, our brother to the North, jumped right in to help us the very same day.

I remember acknowledging the fact that the unity that everyone was talking about would end - and, of course, it did. I did not anticipate it being such a volatile reaction, however. I remember watching the war effort concurrently souring and being lauded. I hid from it. The politics were too much for me at a time where I was trying to absorb all of it. I grit my teeth and kept going on, working and being educated, as we were told we should in the days that followed the attack.

I grew weary of hearing of the War and the stark difference between the opinions of my parents and my peers. I became socially aware adult in my own way; I grew jaded and bored with government and talking heads and other peoples' analyzes. I was distanced, indifferent, and very alienated. I didn't belong in this social and political culture. My life hadn't gotten any better; why should I depend on any politician to make a difference? I gave up.

...and I continued to stay the course. I worked hard to make myself the best citizen I could be. I was employed. I went to school to improve my future socioeconomic status and to grab my own little bit of the American Dream. I was a Patriot.


...but, in reality, am I? Am I really a Good American? This actually bothers me quite a bit. Do I appreciate living where I do as much as I should?

I didn't realistically participate in the last presidential election - but do we not also have the freedom to not vote as we choose?

I dislike politics and simply do not see the point in most interactions between heads of state and nation - but is that not how third parties are spawned? Is that not how the Whigs split off into, among other parties, Republicans - which, in turn, spawned Democrats?

Setting aside my health issues I am far too afraid to be in the military - but I respect our soldiers more than anyone else in the world and say this openly when I meet one. Is respect and awe not supporting my troops?

I'm 28 and still not a productive citizen - but am I not striving to get there?

My ideas on our brand of democracy and how our government works are a bit different than those of my peers - but is freedom of speech not a right?



Maybe using modern benchmarks isn't the best way to measure patriotism.



As a colonist I would've looked out at the land and imagined ways to make a good life.

I would've tilled the soil and protected the harvest from rat infestations in order to feed my family and my community.

I would have mended and washed clothing to keep my family - or anyone else, for that matter - warm through harsh winters.

I would've opened my home to soldiers fighting for the Colonies' rights and tended to them.

...and, had a Redcoat stalked down my street, harassed my neighbors, or come into my house, I would've hidden the children, grabbed my husband's gun, and shot him down in an effort to keep my family and friends safe and free.


If that doesn't make me a Patriot - a Good American - then I guess I'll never know what does.





This is the day in which I became an American adult.


~*~

The funny bit? Since then I learned that Abraham Beam (my g-g-g-grandfather) was actually arrested for helping some British soldiers during the war due to his Mennonite beliefs and moved to Canada after being released. XD



Sarah
It is 11:51 PM here - nine minutes until September 11, 2010.


The confusing bit was that the name scrawled on the front was G.W. Boyce. I'm assuming that the "G.W" stands for George Washington (which seems to be a common name, as I've been finding it quite a bit) but I couldn't figure out where the Boyce came from.

When Mom handed me the plates that I posted yesterday I figured it out - her g-grandmother's maiden name was Boyce. I think that I'm holding on to a bit of either my g-g-uncle's or my g-g-g-grandfather's personal history.

Wow.


Sarah
While going through some old folders the other day my mother and I came across some old documents. Among them was a booklet from a reunion of Civil War veterans from Michigan. I believe that the booklet was dated 1908; I do not have it in front of me.
Florence Marie (Boyce) Walworth and Harry W. Walworth - my great, great grandparents.
Florence (Boyce) Walworth -> Barrie (Walworth) Beam -> Virginia Beam -> Bettie Thoroughman -> Me
PLATES OMG YAY
I will scan them at a later date; I just wanted to share the excitement here. :)
Also written on bit of paper it came with: Barrie seems to have had at least two siblings (Earl and Eva). The name Richard is across from Eva's name and, if the pattern of what is written before it holds, Richard would be Eva's son.
Sarah


I've never been able to amass the entire book; I could only find the introduction, the bit about my g-g-g grandfather, and the bit about the first Beam (Bohem, Boheme) in North America.

My mother found one of her mom's cousins (a fellow that she knew from her childhood) online who has the ENTIRE Beam Family History. He's sending it along.

AWESOME.


I wonder who else is playing Keeper of the Books?


There's a Beam still on the Canada homestead around Niagra Falls that spearheaded the entire book/reunion effort. I should message him.


Sarah
My grandmother attended a number of Beam genealogy family reunions in the 90s where she participated in an effort to publish a Beam Family Book. I contacted the genealogist hired to head the effort who told me that the book was never published - but that there were free .pdf files available online.
Irishsurnames.com
):
Not a Cullen:
...thank you.
Goddamn vampires.
Sarah
Cullen coat of arms (via


For most of my life I only knew my paternal grandfather's (and, to a certain extent, my paternal grandmother's) genealogical information. My mother's side was a complete mystery to me aside from the fact that my maternal great-grandfather left the Mennonite order along with his brothers. Maternal grandfather left when my mother was four and my maternal grandmother never talked about this sort of thing.

Recently, however, I learned that she kept copious amounts of genealogical information and even attended huge family reunions to share and exchange family history! My mother mentioned that she had some papers that she had collected and it turned out that it was an absolute goldmine of information.

I've been a genealogy nerd since I was very little and, now that I'm older, I'm taking it upon myself to re-gather as much information about my branches as I can. My goal is to trace myself back via my maternal and paternal grandmothers and grandfathers. Perhaps when I am older I can tackle some of the other names.

For my first post I will list the four families I am researching now and a brief synopsis of my family stories. I intend to post further details about each name and, eventually, share my various forays into my research.

Behold, my family:

Beam (Bohem, Boheme) - maternal grandmother. First ancestor was a pissed-off Swiss guy that hung out with German Mennonites and then immigrated to the British colonies in 1712 during the (relative) mass exodus of Mennonites. My g-g-g grandfather was jailed for helping out British troops during the Revolutionary war and, after finally being released, moved his family to Canada. That branch remained there until my g-grandfather moved to Michigan.

Thoroughman - maternal grandfather. Very recently learned that the first branch immigrated from England in the early 1700s. May be getting more information soon from a fella my mother found online and my cousin.

Cullen - paternal grandmother. All I know is that she was 100% Irish and her family immigrated to Canada during the 'Famine. Grandmother moved to Michigan before starting her family.

No, I do not have vampires in my family. If this was a genuine question of yours then you should simply leave my blog now.

Burgess - paternal grandfather. My father (EDIT - his great-aunt Minette) was the main compiler of the Burgess line. I have the packet of information, which goes back seven generations. I believe that it is packed somewhere.


Lately I've been digging for Beam information because of the recent discovery of files mentioned above. I'd LOVE to get more information on Cullen but I've been severely hampered by the Twilight phenomenon.


That's about it for now. Happy hunting, friends!


Sarah
My name is Sarah Burgess and I am an American Mutt. I'm 28 years old and a graduate student in experimental psychology.